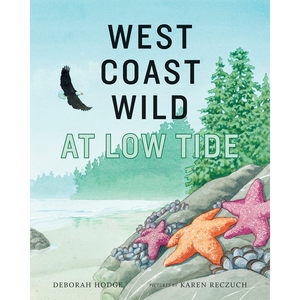 West Coast Wild at Low Tide
Age Range: 3 - 4
Age Range: 5 - 7

Explore the wild shoreline of the majestic Pacific west coast and discover the spectacular array of colorful creatures living in rhythm with the tides.
At the edge of the Pacific Ocean, where land and sea meet, lies a narrow strip of beach called the intertidal zone. Endless tides move back and forth across the zone twice a day. A remarkable community of hardy shoreline creatures flourishes in this environment of ever-changing conditions.
In this third book in the West Coast Wild series, readers will meet brightly colored sea stars, a giant Pacific octopus, busy hermit crabs, delicate sand dollars, fish that camouflage and other intriguing marine animals that a child might see on a beach walk at low tide. Author Deborah Hodge relates fascinating facts about each of the fourteen creatures, while Karen Reczuch's vibrant watercolor illustrations bring the magnificent shoreline and its unique inhabitants to life.
Includes a note about the west coast intertidal zone and safety tips for beachcombers, as well as a further reading list.
---