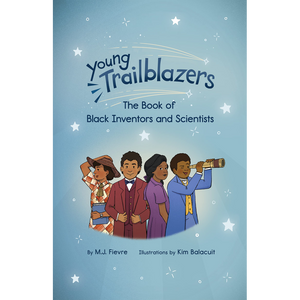 Young Trailblazers: The Book of Black Inventors and Scientists
Age Range: 5 - 7
Age Range: 8 - 11

Learn About Amazing Black Trailblazers Who Changed the World
A fun new book for children that teaches them about Black trailblazers who have impacted the world through their actions and inventions.
From Black Inventors to Black Scientists.
Take your child on an adventure and travel through time to meet historical black trailblazers who changed the game. Countdown to liftoff with Katherine Johnson who helped pioneer U.S. crewed space missions. Safely cross the street with Garrett Morgan who invented the traffic signal or even sing your heart out with James West's invention of the microphone.


Experience an array of rich Black history.
There are Black scientists and Black inventors such as George Washington Carver and Madam C.J. Walker we all know. There are also dozens of Black trailblazers that we don't, all of whom have accomplished remarkable things in literature, entertainment, education, STEM, business, military and government services, politics and law, activism, sports, spirituality, and more.


Cuddle up with your child and meet the Young Trailblazers who will:


• Introduce your child to Black history
• Encourage the importance of dreaming big
• Show your child that they can do it too


If your child enjoyed books about Black History such as
Black Heroes
,
100 African-Americans Who Shaped American History
, or
Black Women in Science
, they'll love
Young Trailblazers: The Book of Black Inventors and Scientists
.
---