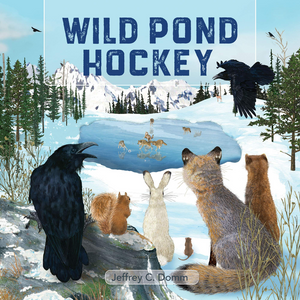 Wild Pond Hockey
Age Range: 3 - 4
Age Range: 5 - 7

A vivid, fast-paced reimagining of the very first hockey game—played by wolves!
Nobody knows for certain how hockey began. Was the first game played in Canada? Was it invented by Indigenous peoples, who then taught it to Europeans? Or, long ago, did a wolf pack find a new way to play?
When two ravens excitedly chisel away at a piece of ice on a frozen pond, a curious wolf pack approaches to investigate the ruckus. They step onto the slippery ice and scare off the birds. But the chunk of ice flies between the wolves, who soon start passing the "puck" back and forth. The game is on! Playfully deking and diving with the ravens cheering them on, the wolves slip and slide in a game of wild pond hockey.
A fun re-imagining of the roots of our nation's favourite game with vibrant, photo-realistic artwork from veteran nature writer and artist Jeffrey Domm.
---