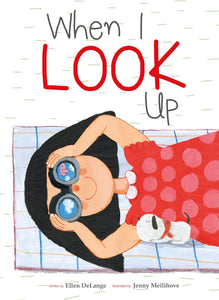 When I look up
Age Range: 5 - 7

"A very cute and memorable little book about the power of gratitude and taking the opportunity to stop and observe the world around you." -Rogene Carter (Educator)
What do you see when you look up?
Where does your imagination take you?
What do you wish for?
A story about dreaming of beautiful things, and about being happy with what you've got. For sky gazers ages 5 years and up.
Guided Reading Level H

At Clavis, our focus is on what's best for children. We believe that books play an important role in each new phase in life. Our toddler books are tailored for every stage from 0 to 3 and focus on the five most important themes in their life: daily life, skills, emotions, the world, and language development. The age range and theme of every book in our toddler series can be found on the back cover in the form of a colored train.
---