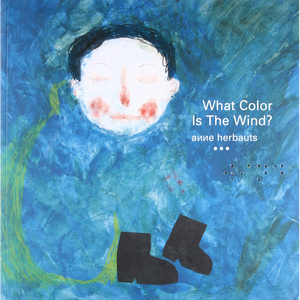 What color is the Wind?
Age Range: 5 - 7

What Color is the Wind? is an interactive sensory book for kids with beautiful illustrations and a simple, engaging story. 
A blind child questions all he encounters––a dog, wolf, elephant, mountain, bird, stream, and tree––about the color of the wind. Each responds differently, with a shape, color, smell, texture, or idea. Each page displays a visual and tactile palette of cutouts, textures, and the pictures that tell the story. Tactile and prodigious in the materials used, this book engages the reader fully, bodily, in an exploration through which they discover the wind as smell, taste, movement, sound, and color. A staple of nature discovery camps and teaching rubrics about the natural world, this is a book through which all children can immerse in their senses and discover much delight! 
A graduate of the Academy of Fine Arts in Brussels, Anne Herbauts creates an original world within each of her books. Awake to the richness of the natural world, endlessly curious, and rigorous in her work, Anne has written and illustrated over twenty books, and has received numerous awards in both Europe and Japan.
---