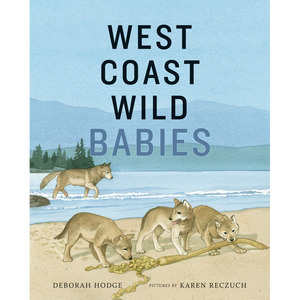 West Coast Wild Babies
Age Range: 3 - 4
Age Range: 5 - 7
Age Range: 8 - 11

It's spring on the Pacific west coast and new life is stirring! Wild babies are being born – in the ocean, on the shore and deep inside the ancient rainforest. Wolf pups, cougar kittens, bear cubs and whale calves all begin their life in the pristine wilderness of this magnificent place.
Young readers will meet a fascinating group of fourteen wild baby animals — including land and marine mammals, fish, birds and amphibians — and learn about the special bonds between offspring and parents, and how the newborns move toward independence. Readers will see an extraordinary community of animals thriving in an interconnected web of life.
In this second book in the West Coast Wild series, Deborah Hodge takes readers through the spectacular land and seascapes of the Pacific Rim region, introducing familiar animals such as sea otters and eagles, and lesser known species such as pelagic cormorants and rufous hummingbirds. Karen Reczuch's beautiful illustrations are detailed and lifelike, and convey a lovely sense of warmth between the wild parents and their young. The text and art have been carefully checked for scientific accuracy.
Includes a note about the Pacific west coast and the need to preserve its rare and awe-inspiring wilderness regions, as well as a list for further reading and exploration.
---