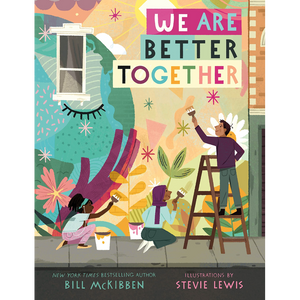 We Are Better Together
From environmentalist and bestselling author Bill McKibben comes a hopeful, inspiring picture book celebrating the power of human cooperation and the beauty of life on Earth, beautifully illustrated by artist Stevie Lewis.

When we work together, we humans can do incredible things.

We share the responsibility to address climate change and our changing planet. It is critical that we act collectively to protect our beautiful, fragile world.

Renowned environmentalist Bill McKibben and the incredibly talented artist Stevie Lewis team up to bring this gorgeous picture book to life.

Celebrating the amazing things people can do, it's an inspiring message of hope.
---