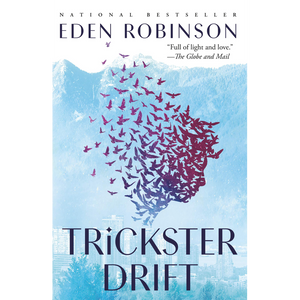 Trickster Drift
Age Range: Adult

Following the Scotiabank Giller Prize-shortlisted Son of a Trickster comes Trickster Drift, a national bestseller and the second book in Eden Robinson's captivating Trickster trilogy.

Jared Martin, seventeen, has quit drugs and drinking. But his troubles are not over: the temptation to slip is constant (thanks to his enabling, ever-partying mom, Maggie). He's being stalked by David, his mom's ex—a preppy, khaki-wearing psycho with a proclivity for rib-breaking. And Maggie, a witch as well as a badass, can't protect him like she used to because he's moved from Kitimat to Vancouver for school.

He figures that in order to be safe from both magic, addiction and David, he's got to get his grades up, find a job that doesn't involve selling weed cookies, and learn how to live with his Aunt Mave, who has been estranged from the family ever since she tried to "rescue" him as a baby from his mother. Though she smothers him with hugs, Mave is blind to the real dangers that lurk around them—the spirits and supernatural activity that fill her apartment.

As the son of a Trickster, Jared is a magnet for magic, whether he hates it or not. He sees ghosts, he sees the monster moving underneath his Aunt Georgina's skin, he sees the creature that comes out of his bedroom wall and creepily wants to suck his toes. He also still hears his father in his head, and other voices too. When David finally catches up with him, Jared can't ignore his true nature any longer. And neither can anyone else he loves.
---