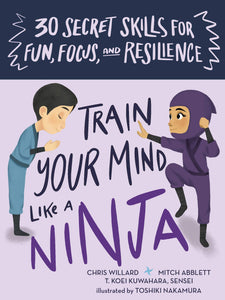 Train Your Mind Like a Ninja 30 Secret Skills for Fun, Focus, and Resilience
Age Range: 5 - 7
Age Range: 8 - 11

Become a ninja with 30 mindfulness practices to help kids ages 5–9 increase their focus, compassion, emotional balance, and body awareness—from experts in Japanese martial arts and mindfulness.

Are you ready to unlock the ninja within?

Train Your Mind Like a Ninja draws from martial arts concepts to explore how you can train the mind and body to act from a place of awareness and deliberate action to reach your full potential. While ninjas of the past may have been warriors, modern ninjas train their minds and bodies for peaceful purposes only, uncovering ways to become happier, healthier, and more confident in everything they do.

Each of the 30 cards is categorized to reflect the ninja values of Community/Connection, Body Awareness and Agility, Mental Awareness and Focus, Calm and Balance, Perspective and Perseverance, and Mental Flexibility and Agility. The deck is arranged in order of overall difficulty, from introductory mental focus and physical training at the start to more challenging emotional training to defeat your inner enemies. Master each of the cards to unlock your inner ninja and become a better student, athlete, family member, and friend.
---