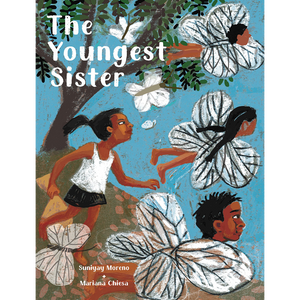 The Youngest Sister
Age Range: 5 - 7
Age Range: 8 - 11

"The small shall be large . . . that's how it must be."
In the Andean foothills, a five-year-old Quechua girl is entrusted with a big job: to collect a marrow bone from the neighbor for the family soup. A stunning debut from Indigenous author Suniyay Moreno.
Picu's family is very poor. In the dry Andean foothills, her mother must feed fourteen people-her kids, her relatives' kids, and the hired hand's kids-every day. One morning, Picu, the youngest sister, is sent to get a marrow bone from a neighbor. The bone will add flavor and nutrition to the lunchtime soup. Her mother warns her not to dawdle on the two-hour walk, each way, through the wild landscape.
But Picu can't help it! She marvels at the butterflies, samples the cactus fruit, and daydreams about using the marrow bone as a football. Will the neighbor let her family keep the bone after the soup is made? Will her mother let her play with it? And will she be punished for being so late?
Picu is a child of joie de vivre and resourcefulness. This story, like Picu herself, is tough, hard, and honest. And moving. And fun.
The Youngest Sister features a glossary of Quechuan terms that are used throughout the story.
---