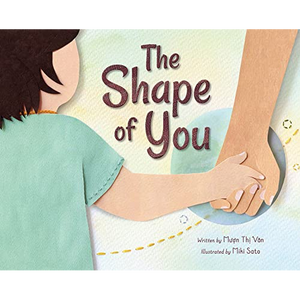 The Shape of You
Age Range: 3 - 4
Age Range: 5 - 7

A thoughtful and unique meditation on the shapes found in everyday life, sure to expand young children's thinking.
In lyrical language, a mother tells her small daughter about the shapes that make up their lives. At first, the shapes are literal. The shape of their door is a rectangle, their table, a square. Water can be shaped like a cube or a cloud. And then she moves on to the figurative. The shape of learning is a question. The shape of warmth is a space waiting to be filled. Some shapes change, like a child growing up, while some remain the same, like the triangle of the mountain behind their house. The shape of her heart, she concludes, "will always be you."
Bestselling and award-winning author Mượn Thị Văn has written an innovative, poetic and philosophical exploration of shapes and the many forms they can take, touching on objects, families and love. The meditative and heartwarming text is beautifully complemented by Miki Sato's layered, multitextured and three-dimensional-looking illustrations created from different papers and fabrics. A soothing read-aloud, this picture book has the feel of a classic and promotes observation, curiosity, interpretation and discussion. It's an excellent choice for exploring critical thinking, shapes and measurements with young children.
---