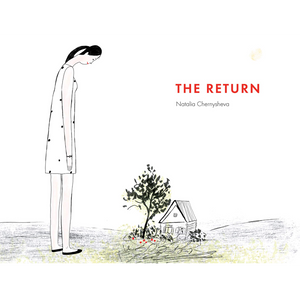 The Return
Age Range: 5 - 7
Age Range: 8 - 11

Coming home from her independent city life, a young woman rediscovers childlike wonder and comfort at her grandmother's house.
A young woman gets on the bus and rides out of the big city. She arrives in the countryside, where she is as big as a giant, looming over a tiny house, a garden and her tiny grandmother. The cabbages and the apple trees are far below. Her grandmother smiles up at her in her yellow hat. The young woman bends down to give her little grandmother a big kiss, and then she smells her grandmother's cooking. She has returned home. When they sit down at the table, the young woman has shrunk to a child-like size, and the two share a meal together in the garden.
In this gentle, wordless story Natalia Chernysheva beautifully captures the feelings of coming home to comfort and memories and of returning to our childlike selves.
---