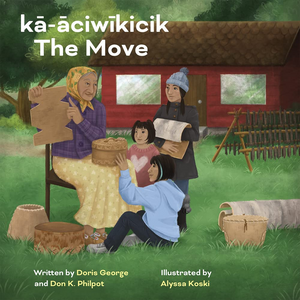 The Move
Age Range: 3 - 4
Age Range: 5 - 7
Age Range: 8 - 11

A magical children's picture book, written in Cree and English, depicting the transformation of a barren landscape into a rich natural world where an elderly couple can spend their remaining days.


Rooted in the historical displacement and relocation of members of the Chemawawin First Nation from their ancestral homeland,
The Move
is a bilingual story of two Cree Elders adjusting to life in their new environment. The story presents two contrasting landscapes of the old community—the homeland of the Chemawawin People—and the new community of Easterville, which at first appears barren and lifeless. Gradually, the couple begins to incorporate their old customs and traditions into their current surroundings. Family members begin to visit, and eventually nature begins to bloom all around them. Through traditional Cree storytelling techniques and vivid imagery, the new landscape springs to life and becomes a true community, filled with life and happiness.
---