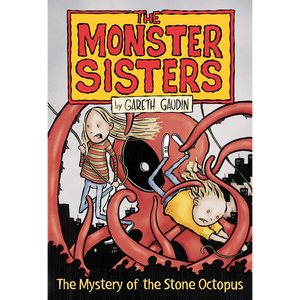 The Monster Sisters and the Mystery of the Stone Octopus
Age Range: 8 - 11
Age Range: 12 - 14

Still sleuthing and swinging on vines, the Monster Sisters are back!

In this sequel to The Monster Sisters and the Mystery of the Unlocked Cave, sister sleuths Enid Jupiter and Lyra Gotham traverse the city uncovering clues as to why their sleepy seaside town has become overrun by giant monsters. Using the city's archives, well-read local booksellers, their keen intellects and their father's comic book collection, the girls piece together a giant conspiracy spanning centuries. The monsters cause a ruckus, the girls solve mysteries, maps are unearthed and a city is *hopefully* saved (no spoilers!).

In the final chapters of their story the Monster Sisters delve deeper into the meta-narrative of their lives when they find comic books starring themselves on their father's desk. Do the secrets of survival lay among their fictional adventures? Using real locations, true facts and witty asides, this graphic novel is as much of an adventure to read as it is for the characters to experience.

---