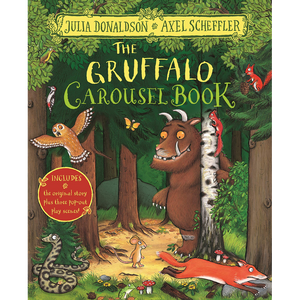 The Gruffalo Carousel Book
Age Range: 3 - 4
Age Range: 5 - 7


Walk into the deep dark wood with Mouse in this this amazing pop-up carousel book, and discover what happens when he comes face to face with a fox, an owl, a snake. and a hungry Gruffalo!

Read the much-loved story, then press out the play pieces and join in all the fun with three stunning pop-up play scenes. There are lots of holes to peep through, things to spot and flaps to open, so you can explore the deep dark wood with Mouse. Discover Fox's underground house, Owl's treetop and Snake's logpile - but watch out for the Gruffalo hiding in the trees!
The Gruffalo Carousel Book
includes a special envelope for safe storage of the 12 play pieces and a ribbon closure.

---