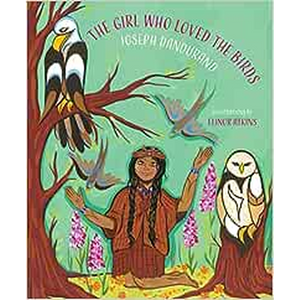 The Girl Who Loved the Birds
A story for children by Kwantlen storyteller and award-winning poet Joseph Dandurand.
The Girl Who Loved the Birds is the third in a series of Kwantlen legends by award-winning author Joseph Dandurand, following The Sasquatch, the Fire and the Cedar Baskets and A Magical Sturgeon.
Accompanied by beautiful gouache illustrations by Kwantlen artist Elinor Atkins, this tender children's story follows a young Kwantlen girl who shares her life with the birds of the island she calls home. Collecting piles of sticks and moss for the builders of nests, sharing meals with the eagles and owls, the girl forms a lifelong bond with her feathered friends, and soon they begin to return her kindness.
Written with Dandurand's familiar simplicity and grace, The Girl Who Loved the Birds is a striking story of kinship and connection.
---