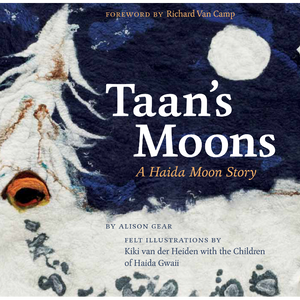 Taan's Moons
Age Range: 5 - 7
Age Range: 8 - 11

 The author, Alison Gear, based this engaging and thoughtful story on one version of the Haida Moon Cycle. It follows Taan ("bear" in the Haida language) as she experiences, and shares with the reader, the wonder of the unfolding seasons.
Kiki van der Heiden worked closely with the children on Haida Gwaii to create the stunning felted artwork that gracefully complements each page of Taan's story: "What I enjoyed most…was the pure joy of collaborating with these 70 young, talented artists [ages 5-7]. Their fresh and spontaneous ideas…formed artwork beyond what I could have ever imagined."
This is a story woven together by the community on Haida Gwaii. "Taan's Moons is respectfully based on traditional Haida knowledge and was written to honour it," says Joanne Yovanovich, Principal of Aboriginal Education for School District No. 50, Haida Gwaii. "Through Taan's Moons, our children are offered another perspective in which to view and interact respectfully with Haida knowledge. We hope this book inspires others to continue to be creative and share their stories."
Alison and Kiki worked closely with elders, teachers, children, and parents to produce this unforgettable book. The title of each moon cycle has been translated into both Skidegate and Old Massett Haida, honouring language and wisdom. The children involved in this project, under Kiki's gentle guidance, were hands-on at each stage of rendering the felt pieces until they became the sculpted illustrations currently featured in Taan's Moons.
---