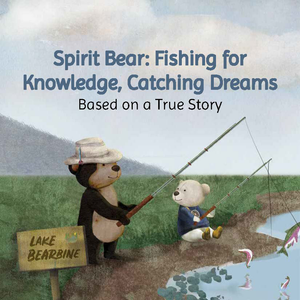 Spirit Bear: Fishing for Knowledge, Catching Dreams
Age Range: 5 - 7
Age Range: 8 - 11
Age Range: 12 - 14

Spirit Bear is off on another adventure! Follow him as he learns about traditional knowledge and Residential Schools from his Uncle Huckleberry and his friend, Lak'insxw, before heading to Algonquin territory, where children teach him about Shannen's Dream.
Spirit Bear and his new friends won't stop until Shannen's Dream of "safe and comfy schools" comes true for every First Nations student.
Dear Uncle Huckleberry,
Look up at the stars tonight. If you look closely, you'll see Shannen Koostachin lighting the way.
Shannen knew that school should be a time for dreams and that every child deserves to have a safe and comfy school, a proper education, and to feel proud of who they are. Every child is sacred.
Did you know that many First Nations schools get less money from the government than other schools? Shannen knew this was wrong. And so do I.
And like my mom, Mary the Bear, always says, when we see something wrong, we need to help make things right!
Did you know that Lak'insxw means "grizzly bear" in Gitxsan language?
by Cindy Blackstock, illustrated by Amanda Strong
---