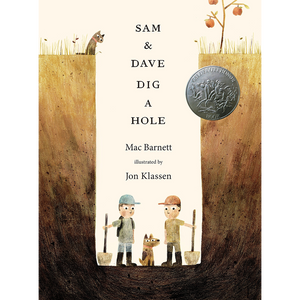 Sam & Dave Dig A Hole
Age Range: 3 - 4
Age Range: 5 - 7

A 2015 Caldecott Honor Book

With perfect pacing, the multi-award-winning, New York Times best-selling team of Mac Barnett and Jon Klassen dig down for a deadpan tale full of visual humor.

Sam and Dave are on a mission. A mission to find something spectacular. So they dig a hole. And they keep digging. And they find . . . nothing. Yet the day turns out to be pretty spectacular after all. Attentive readers will be rewarded with a rare treasure in this witty story of looking for the extraordinary — and finding it in a manner you'd never expect.
---