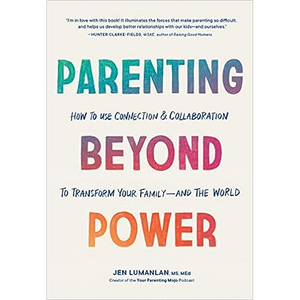 Parenting Beyond Power: How to Use Connection and Collaboration to Transform Your Family -- and the World
Age Range: Adult

"I'm in love with this book! It illuminates the forces that make parenting so difficult, and helps us develop better relationships with our kids—and ourselves."
—Hunter Clarke-Fields, MSAE, author of Raising Good Humans


Parenting is
hard.
But when we replace conventional parent-child power dynamics with collaboration, family life gets easier today—and we create a better world for all of us in the future.

When we see our children stalling, resisting, having tantrums, using mean words, and hitting, we want to
just make it stop
. But conventional discipline methods like time-outs, countdowns, and "consequences" teach children that it's OK for more powerful people to control others—a lesson they take out into the world. This is how
we
learned White supremacy, patriarchy, and capitalism from our parents—and we will replicate this with our children unless we make a different choice.

Research-based parenting educator Jen Lumanlan offers a simple yet revolutionary framework for rethinking our relationships with children. This new approach helps us to look beneath challenging behaviors to find and meet children's needs, and ours too—perhaps for the first time in our lives. It involves empathetic listening, understanding feelings and underlying needs, and problem-solving with our children to find solutions to conflicts that work for everyone.

Family life becomes radically easier in the short term because behavior problems tend to melt away. In the long term, we'll raise children who confidently advocate for themselves and treat others with profound respect.

Includes sample scripts, flowcharts, and resources to help parents learn and implement this new approach.
---