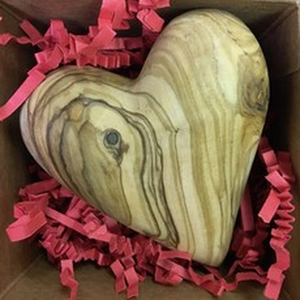 Wooden Hearts
These OLIVE WOOD HEARTS are not only symbols of love...but also of hope, peace and friendship. They are handmade by Palestinian artisans in Bethlehem and make a beautiful gift!
Item:  Olive Wood Heart

Material:  Olive Wood

Origin:  Bethlehem  
Dimensions:  3" x 3" (approx.) large

Dimensions:  2.25" x 2.25" (approx.) medium

Dimensions:  1.5" x 1.5" (approx.) small

The heart is the universal sign of love.  The olive tree is a symbol of peace and friendship.
Please Note:  there will be variation of wood grain in each heart.
---