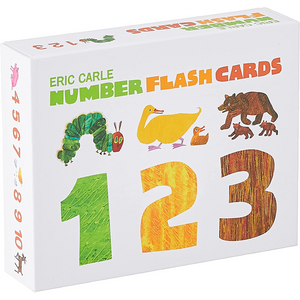 Number Flash Cards 1 2 3 - The World of Eric Carle
Age Range: 1 - 2
Age Range: 3 - 4

Introduce numbers to kids: the Eric Carle number flash cards includes two sets of the numbers 1 through 10, Ideal for kids ages Infant to toddler.

Perfect for Eric Carle fans: Featuring the beloved animal illustrations from the books of bestselling author Eric Carle, this Flashcard set serves as a delightful introduction to counting.

Simple design: each of the cards features a group of animals illustrated on one side, and the number of animals on the other side.

Easily portable: the portable pack of cards is perfect for learning at home, in the classroom, or on the go.

Sturdy for small hands: printed on thick, sturdy board, These cards are durable enough for play and decorative enough to hang on the wall.
---