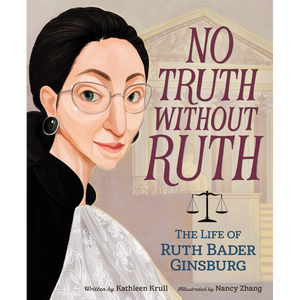 No truth without Ruth
Age Range: 3 - 4
Age Range: 5 - 7
Age Range: 8 - 11

From award-winning author Kathleen Krull comes an empowering, inspiring picture book biography—with dazzling illustrations from artist Nancy Zhang—about the second female justice of the Supreme Court, Ruth Bader Ginsburg.
This picture book biography is the story of "Ruthless Ruthie," a warrior for equality, a tireless defender of justice, and an inspiring trailblazer for girls everywhere.
Ruth Bader Ginsburg may have been one of the most respected women in the United States, but her recognition is nothing short of hard-won. For years before becoming a justice of the Supreme Court, Ruth had to fight the notion that being female meant that she was less smart, less qualified, and less worthy of attention than her male counterparts. Throughout college, law school, and her work life, she faced discrimination—because she was a woman.
But it was in her fight for equality as a lawyer that she made an imprint on American history, by changing the way the law dealt with women's rights and by showing people that unfairness to women wasn't just a female problem—that it negatively affected men and children, too.
This picture book biography of Ruth Bader Ginsburg is a strong choice for the classroom and for sharing at home.
---