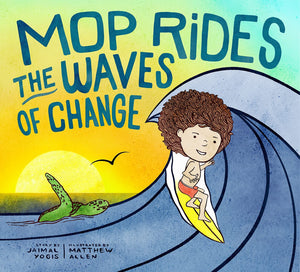 Mop Rides the Waves of Change A Mop Rides Story (Emotional Regulation for Kids, Save the Oceans, Surfing for K ids)
Age Range: 5 - 7

The second in the Mop Rides series! Surfer kid Mop and his friends are back in a quest to save the ocean with mindfulness, surfing, and a band

Mop and his friends are back, this time with a band, The Coconut Heads. Mop is riding high from the lessons he's learned about riding the waves of life: to breathe, ride the good waves, and let the bad waves go by. But just when he feels like he's getting the hang of it, he notices a turtle tangled in plastic at the beach. Paddling out to catch a wave, he sees more plastic, and he can't get rid of his anger. It seems like he's back to square one. But after an epic wipeout, he has a realization: deep down, under the anger, is love. He loves the ocean, and he wants to help keep it clean.

But how? Let's just say it involves some party waves and a benefit concert by the Coconut Heads–and it's not just their parents who show up.

Celebrated San Francisco surfer-journalist-dad Jaimal Yogis teaches 4-8 year-olds timeless beach wisdom with the continuing story of Mop, a sensitive and fun-loving kid who just wants to be in the ocean.

With stylish full-color beachy illustrations from cover to cover by So-Cal surfer Matt Allen.
---