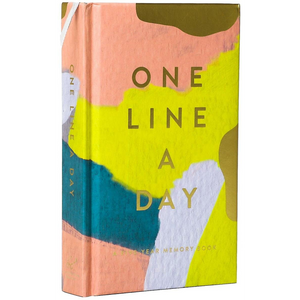 Modern One Line a Day
Age Range: 12 - 14
Age Range: Adult

An eye-catching new version of the classic bestselling One Line a Day 5-year memory book features a modern, elegant design by beloved stationer Moglea on its cover and within.

The bestselling One Line a Day journal series has sold over 2.5 million copies!

More than a daily diary: For those daunted by the idea of keeping a journal or diary, the simple commitment of just One Line a Day is manageable for everyone. Each page includes an entry for five successive years, allowing you to revisit previous thoughts and memories on a specific day of the year over the span of five years.

Featuring painterly brushstrokes and full-color artwork on every page, this beautifully bright daily journal was created to help you record and remember something in particular about every day. Whether you want to find the beauty in ordinary, track the progress of a new venture, or simply want to practice daily reflections, One Line a Day provides the perfect space to do so.
---