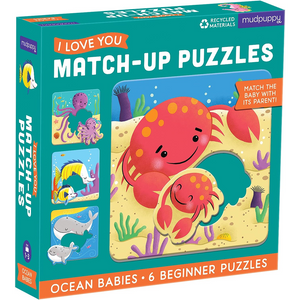 Match-Up Puzzles- Adorable Forest Baby
Age Range: 1 - 2

6, 2-PIECE PUZZLES: Ocean Babies I Love You Match-Up Puzzles from Mudpuppy include 6 extra-thick, 6.75" x 6.75" puzzle boards with one animal shaped piece per board. Perfect for young puzzlers ages 1-3 to match up.

OCEAN BABIES: Featuring adorable artwork celebrating the bond between babies and their caregivers, the Ocean Babies Match-Up Puzzles include crabs, fish, octopus, whales, seahorses and turtles.

EDUCATIONAL AND FUN: Have fun while learning! These beginner puzzles teach problem-solving and enhance fine motor skills while young puzzlers match the baby ocean animal with its parent.

STURDY STORAGE BOX: The durable 7.5" x 7.5" x 1.5" storage box is an ideal place to keep puzzles safe and free from damage. Also makes an easy to wrap gift!

SAFE MATERIALS: Mudpuppy I Love You Match-Up puzzle pieces are printed with soy-based inks that are non-toxic for young children.
---