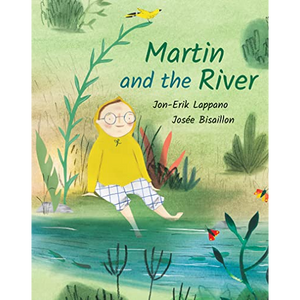 Martin and the River
Age Range: 3 - 4
Age Range: 5 - 7

Faced with moving away from his beloved river in the country, Martin discovers it is possible to make a meaningful connection to nature in the city, too, and find ways to accept changes beyond his control.
Martin loves to play by the river near his house. He watches the great blue herons and looks for crayfish and otters. He builds forts and lies in the tall grass near the water. But one day Martin's parents tell him they have to move away, to the city. 
The family spend a day in the city, exploring their future home. Martin rides the subway, visits the market, explores the museum and watches a street performer, but none of the city's charms can compare with the river. Then his parents show him a small stream running through the park, and Martin senses something familiar in the air. 
When moving day arrives, Martin fills a small glass jar with river water as a keepsake. And when he returns to the stream, he discovers that his connection to nature can be just as wondrous in the city. 
This poetic story looks at the special relationship between an imaginative child and the natural world, and explores how that connection can be nurtured and recreated in a new place.
---