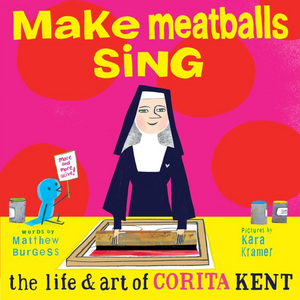 Make Meatballs Sing: The Life and Art of Corita Kent
Age Range: 5 - 7
Age Range: 8 - 11

Corita Kent (1918–1986) lived a remarkable life as an artist, educator, nun, and activist. Unapologetically holding true to herself and her beliefs, Corita spread a powerful message of love, hope, and justice with her work, as it evolved from figurative and religious art, to serigraphs incorporating the sacred and the ordinary, to a sparser, more introspective style.
This timely story will draw readers into the life of a singular woman whose work and commitment invite us all to seek joy in the everyday, to observe the world with open eyes, and to question and see beyond the existing frameworks of society.
Thoughtfully written by Matthew Burgess and vibrantly illustrated by Kara Kramer, this beautiful biography, made in close collaboration with the Corita Art Center, includes reproductions of Corita's works, a chronology, and author and illustrator notes.
---