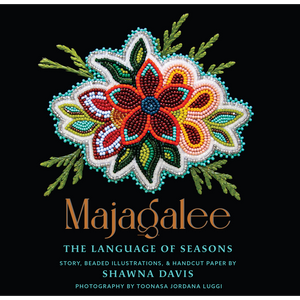 Majagalee: The Language of Seasons
"We call the children 'Majagalee.'
Sweet, wild flowers
fed from the river mist,
showered with knowledge and love.
Deeply rooted in the land,
they are the oldest stories,
told and retold."
Shawna Davis invites the reader to explore each of the four seasons through her beautiful words and lush, unforgettable, beaded illustrations.
We begin in Gwooyim (Spring) when the Majagalee, the Sim Algyax word for "flower," are just beginning to sprout. We then move on to Sint (Summer) when Grandmother Sun stays in the sky a bit longer. Next there is Xwsit (Fall), just as Summer begins to get sleepy, and Maadim (Winter) where the snow has fallen and the freezer is full.
This is a story of nature, its importance to our lives, and why it must be cared for and
respected.
Toonasa Jordana Luggi's lovely, rich, and nearly tactile photographs are the perfect complement to Shawna's hand-beaded artwork and wonderful, hand-cut paper backgrounds.
Majagalee: The Language of Seasons is Shawna's first picture book with McKellar & Martin, and we are honoured to have her on our list.
Includes Pronunciation Guides
Acknowledgement
---