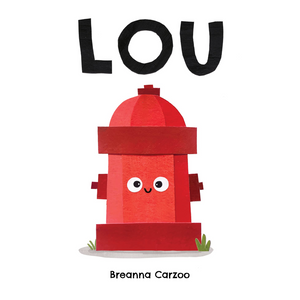 Lou: A Children's Picture Book About a Fire Hydrant and Unlikely Neighborhood Hero
Age Range: 3 - 4

Don't miss this humorous and heartwarming picture book by debut creator Breanna Carzoo about an unlikely everyday hero: a fire hydrant! Perfect for fans of The Good Egg and The Bad Seed.
Meet Lou. Lou has an important job . . . as the neighborhood toilet for dogs on their walks.
Useful as he may be, he gets the feeling that deep down inside, there might be more to him than that. He just doesn't seem to know exactly what yet.When disaster strikes, will Lou find out what he's made of and save the day?
From debut creator Breanna Carzoo comes a charming and funny story that reminds us to never let anyone—including yourself—hold you back from sharing your gifts with the world.
Kids will fall in love with Lou and his journey of self-discovery as he saves the day from a fire that breaks out in an apartment building nearby. You'll never be able to look at a fire hydrant the same way again!
---