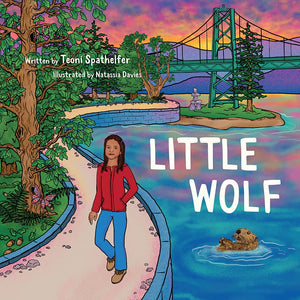 Little Wolf
Age Range: 3 - 4
Age Range: 5 - 7
Age Range: 8 - 11

A young Indigenous girl moves to the big city and learns to find connections to her culture and the land wherever she goes, despite encountering bullies and feelings of isolation along the way.
When Little Wolf moves to the big city with her mom and sister, she has difficulty adjusting to their new life. She misses living close to nature and seeing animals wherever she goes, and she misses fishing with her grandfather and seeing dolphins leaping beside their boat. Most of all, she misses feeling connected to her culture.
At school, Little Wolf has trouble fitting in. Although her class has kids from many different cultures, no one is Heiltsuk, like her. The other kids call her names and make her feel unwelcome. Her only defence is to howl like a wolf so they run away. But this only isolates her further.
Gradually, Little Wolf starts to see the beauty in her new surroundings. She discovers that there is wildlife everywhere, even in the big city. An otter swims beside her as she walks on the seawall. A chickadee chirps in a tree in the big park near her house. And her mother helps her stay connected to their culture by signing them up for beading and dance classes. Despite the difficult start, Little Wolf grows up proud of her background and ready to face the future. This inspiring tale, the first in a trilogy, combines traditional and contemporary Indigenous themes and artwork.
---