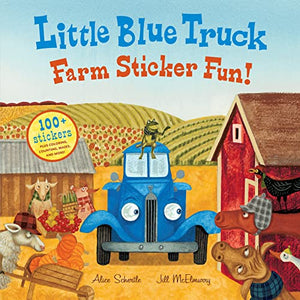 Little Blue Truck Farm Sticker Fun!
Age Range: 3 - 4
Age Range: 5 - 7

Count, color, match, and more with the #1 New York Times bestselling Little Blue Truck in this interactive sticker activity book!

The leaves are turning and it's time for fall: red, yellow, orange and . . . Blue? Come along with Little Blue Truck and all his friends as they pick apples, decorate pumpkins, make costumes, and celebrate all the magic of autumn. This jam-packed book includes four pages of stickers and loads of fun activities. From coloring to counting, seeking, searching, mazes, and more . . . get ready for a fun-filled fall on the farm with Little Blue Truck!

Don't miss Blue's bedtime ride in Good Night, Little Blue Truck and his trip to the city in Little Blue Truck Leads the Way.
---