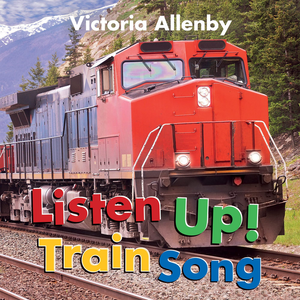 Listen Up! Train Song
Age Range: 1 - 2
Age Range: 3 - 4

Where do the trains go?
There and back.
Let's sing a train song
All down the track.
Toddlers and babies love trains and the noises they make. Listen Up! Train Song uses repeating verse and bright photographs to match this enthusiasm with a unique take on the conceptual sound book that is perfect for reading aloud. Each spread uses onomatopoeia to highlight the ting-a ling! of subway door chimes, the chuff-a-gruff-a! of a dieselengine, and more. And after the children have sung along through the colorful pages, a final note to caregivers offers enriching, age-appropriate activities to keep building their child's foundational learning skills.
Playing with sounds and rhythms is a first step to language development. With repetitive, easy-to-remember verse from the award-winning author of Nat the Cat Can Sleep Like That and Shape Up, Construction Trucks!, Victoria Allenby's Listen Up! Train Song invites its young audience to recognize the songs of the railway and to proudly sing their own.
---