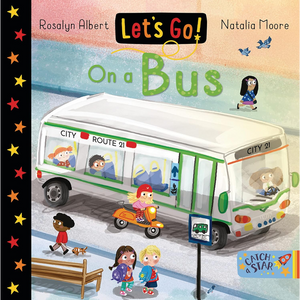 Let's go on a bus
Age Range: Babies
Age Range: 1 - 2
Age Range: 3 - 4

Join these fabulous friends as they go on a bus ride across the city.
"Let's go on a shiny bus, and drive across the city, past palaces and skyscrapers, so grand and, oh, so pretty!"
Get ready to climb aboard a city bus with these fun friends. With lots to spot and see from soaring skyscrapers, dazzling lights and big bridges, there's no end to the excitement of a bus ride.
This fun, rhyming book for toddlers is vibrantly illustrated and includes a diverse set of characters. With lots to spot and see on every page, this is a perfect introduction to transport for 0 to 3 year-olds.
---