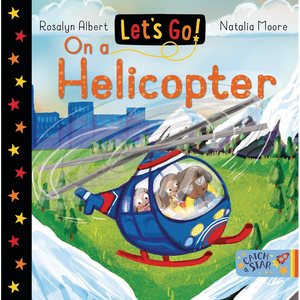 Let's go on a helicopter
Age Range: 1 - 2
Age Range: 3 - 4

Join these fabulous friends, as they go high into the sky on a helicopter ride. "Let's go on a helicopter whirring through the sky, A bird's eye view will nicely do. Let's see what we can spy!"

Get ready to step inside a helicopter with these fun friends and fly high above the city. With lots to spot from skiers on mountains to surfers in the sea, there's no end to the excitement of a helicopter ride.

This fun, rhyming book for toddlers is vibrantly illustrated and includes a diverse set of characters. With lots to spot and see on every page, this is a perfect introduction to transport for preschoolers.
---