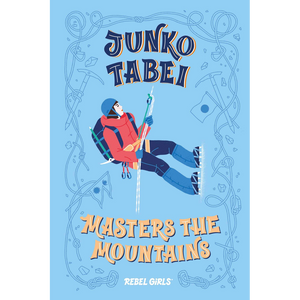 Junko Tabei Masters the Mountains
Age Range: 8 - 11

From the world of Good Night Stories for Rebel Girls comes the historical novel based on the life of Junko Tabei, the first female climber to summit Mount Everest.

Junko is bad at athletics. Really bad. Other students laugh because they think she is small and weak. Then her teacher takes the class on a trip to a mountain. It's bigger than any Junko's ever seen, but she is determined to make it to the top. Ganbatte, her teacher tells her. Do your best. 

After that first trip, Junko becomes a mountaineer in body and spirit. She climbs snowy mountains, rocky mountains, and even faraway mountains outside of her home country of Japan. She joins clubs and befriends fellow climbers who love the mountains as much as she does. Then, Junko does something that's never been done before… she becomes the first woman to climb the tallest mountain in the world.
---