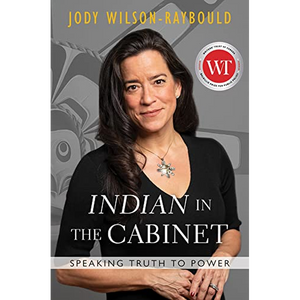 "Indian" in the Cabinet Speaking Truth to Power
Age Range: Adult

THE #1 BESTSELLER
FINALIST FOR THE WRITERS' TRUST BALSILLIE PRIZE FOR PUBLIC POLICY
A compelling political memoir of leadership and speaking truth to power by one of the most inspiring women of her generation
Jody Wilson-Raybould was raised to be a leader. Inspired by the example of her grandmother, who persevered throughout her life to keep alive the governing traditions of her people, and raised as the daughter of a hereditary chief and Indigenous leader, Wilson-Raybould always knew she would take on leadership roles and responsibilities. She never anticipated, however, that those roles would lead to a journey from her home community of We Wai Kai in British Columbia to Ottawa as Canada's first Indigenous Minister of Justice and Attorney General in the Cabinet of then newly elected prime minister, Justin Trudeau.
Wilson-Raybould's experience in Trudeau's Cabinet reveals important lessons about how we must continue to strengthen our political institutions and culture, and the changes we must make to meet challenges such as racial justice and climate change. As her initial optimism about the possibilities of enacting change while in Cabinet shifted to struggles over inclusivity, deficiencies of political will, and concerns about adherence to core principles of our democracy, Wilson-Raybould stood on principle and, ultimately, resigned. In standing her personal and professional ground and telling the truth in front of the nation, Wilson-Raybould demonstrated the need for greater independence and less partisanship in how we govern.
"Indian" in the Cabinet: Speaking Truth to Power is the story of why Wilson-Raybould got into federal politics, her experience as an Indigenous leader sitting around the Cabinet table, her proudest achievements, the very public SNC-Lavalin affair, and how she got out and moved forward. Now sitting as an Independent Member in Parliament, Wilson-Raybould believes there is a better way to govern and a better way for politics—one that will make a better country for all.
---