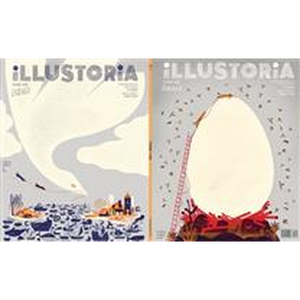 Illustoria: For Creative Kids and Their Grownups Issue 15: Big & Small: Stories, Comics, DIY
Age Range: 5 - 7
Age Range: 8 - 11

Our first ever two-in-one mag, BIG & SMALL presents a spectrum of scale—from micro to macro, invisible to the interstellar, and world records for biggest and smallest things. Pick which you want to explore first—Big or Small—and start reading. Both sides meet in the middle for a 4- page fold-out grand finale.
Explore the biggest of the smallest in the world of insects, and enter the invisible world of microorganisms—a feature by our guest curator,
Lark Pien
. Gaze at the gigantic sculptures by
Claes Oldenburg
and
Coosje van Bruggen
, and witness how tiny dots became big art, via the installations of
Yayoi Kusama
. Make your own very tiny hamburgers with Dog Chef, navigate a maze on a grand or itty bitty scale, and draw your own Calligram: word pictures from ancient manuscripts. Visit the World's-Largest-Collection-of-
the-Smallest-Versions-of-Things Museum, and learn about the collaborative duo behind the cover art, ICINORI.

Illustoria is a print magazine for creative kids & their grownups. We celebrate visual storytelling, makers and DIY culture through stories, art, comics, interviews, crafts and activities. Our high-quality, tri-annual publication is geared toward readers ages 6-12 and the young at heart.



Illustoria is the official publication of the International Alliance of Youth Writing Centers, publishing writing and art by young people alongside accomplished professionals.
---