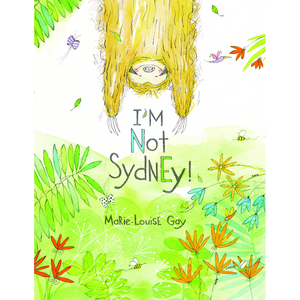 I'm Not Sydney!
Age Range: 3 - 4
Age Range: 5 - 7

Sydney and his friends gather outside to play, transforming one by one to climb, leap, lumber and soar into a shared jungle of their imagination.
Hanging upside down in a tree, Sydney imagines he is a sleepy, sun-bathing sloth. And that's where Sami finds him. Sami thinks sloths are too slow, so she scampers up the tree and becomes a spider monkey. "Fast is fun!" she chatters. "Fast is best!" And that's where Edward finds them…
One after another, the neighborhood kids wander by and slip into a shared imaginative world where leaves and giant flowers unfurl, playing, laughing, teasing and bickering, until Edward the elephant fills up his trunk and—WHOOSH!—sends the children "galloping home like a herd of small wet animals."
As always, Marie-Louise Gay's writing and artwork are wonderfully pitched to young readers, capturing the effortless way that children travel back and forth between the worlds of real life and make believe. With its sun-dappled watercolors, depiction of time spent outdoors with friends, and quiet, wistful ending, I'm Not Sydney perfectly illustrates the slow-moving magic of a childhood summer.
---