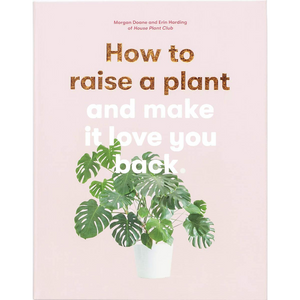 How to Raise a Plant: and Make It Love You Back
Age Range: Adult

A perfect guide for anyone eager to see their plant offspring thrive.

This attractive little book is ideal for the novice 'plant parent', providing tips on how to choose plants, where to keep them in your home, and above all else how to care for them and keep them thriving. 

Indoor plant experts from the popular account @houseplantclub, Erin Harding and Morgan Doane, bring the trendy and timeless subject to life alongside their beautiful photographs of happy plants in the home.

Ways to Make Your New Plant Love You:
• Discover the best houseplants to green up your space
• Learn how to maintain your collection by propagating and repotting
• Finding the right tools and materials, and how to tackle pest control
• Building terrariums and other DIY projects for happy plants
• Interior stylings suggestions from boho to modern to classic, there design inspiration for everyone!

---