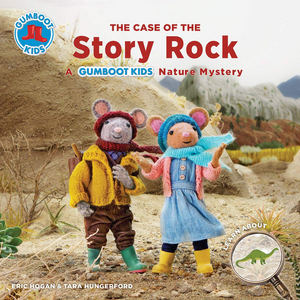 Gumboot Kids: The Case of the Story Rock
Age Range: 3 - 4
Age Range: 5 - 7

Scout and Daisy are on an expedition in the desert and Scout has uncovered something incredible -- a rock has told him a story! But how can a rock tell a story? Join Scout as he helps Daisy find clues to solve the Case of the Story Rock.
Adapted from the award-winning TV show The Gumboot Kids comes this outstanding new series of nature mystery books that celebrate the joy and wonder of mindfully exploring the natural world.
Each book concludes with two pages of field notes on the mystery subject, as well as a nature craft inspired by the mystery, for kids to try at home.
See also the free teaching guide:
---