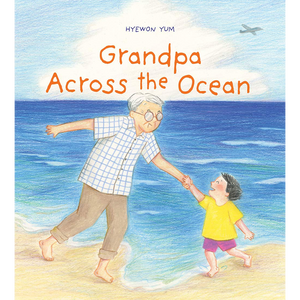 Grandpa Across the Ocean
Age Range: 5 - 7
Age Range: 8 - 11

Though separated by language, age, and an ocean, a child and grandparent find common ground in this warm, witty picture book


Grandpa lives on the other side of the ocean.
He takes naps all the time. He eats different foods. He speaks an unfamiliar language. His house is the most boring place on Earth!
Or is it? A little time together just might reveal that Grandpa is also a great singer, an energetic sandcastle builder, and a troublemaker . . . just like his grandson!
With her signature warmth and humor, award-winning author-illustrator Hyewon Yum shares the challenges and joys of having a relative who lives far away—proving that even from across the ocean, the grandparent-grandchild relationship is a very special one.
---