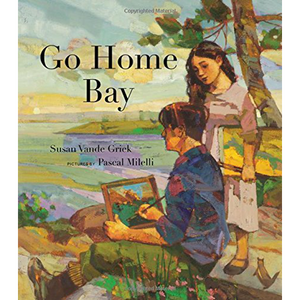 Go Home Bay
Age Range: 5 - 7
Age Range: 8 - 11
Age Range: 12 - 14

In 1914, Tom Thomson spent the summer at a family cottage on Lake Huron's Georgian Bay, where he taught the ten-year-old daughter, Helen, how to paint. Author Susan Vande Griek and illustrator Pascal Milelli have imagined this time through Helen's eyes, providing an intriguing glimpse into the famous painter's life.
Helen and her father greet their visitor on the rocks of West Wind Island. She is fascinated by everything about him ― his canoe full of gear, his paint-stained hands, his campfire stew. Over the next few days she watches as Tom paddles off to fish and clambers over the rocks to paint. And then he invites Helen to paint with him ― wildflowers blooming near the cottage, boats rocking in the water, pine trees blowing in a storm. And at summer's end, he leaves her with a memento of their time together.
The story, told in lyrical free verse, has a quiet charm, while the illustrations capture the natural beauty that inspired some of Thomson's most memorable paintings.
An author's note provides more information about Tom Thomson's life.
---