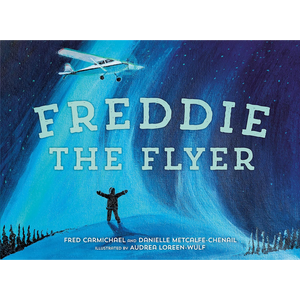 Freddie the Flyer
Age Range: 3 - 4
Age Range: 5 - 7

A gorgeous picture book that pays homage to aviator Freddie Carmichael — the first Indigenous commercial pilot in the Arctic —with each month of the year highlighting moments from his life, the beauty of the North and the power of dreams.


When Freddie was young, he saw a plane up close for the first time when it dropped off supplies at his family's remote bush camp. He was instantly hooked.

Freddie has flown for nearly seventy years, doing everything from supply runs to search and rescue to transporting dog teams to far-flung areas.

This book celebrates Freddie's early dreams of flying and his later achievements. Readers move with Freddie through the year, hearing about his journey as a pilot and leader, while learning the names of the months in Gwich'in and Inuvialuktun at the same time. Art from Inuvialuit painter Audrea Loreen-Wulf perfectly captures the incredible Western Arctic as well as Freddie's love for aviation.
---