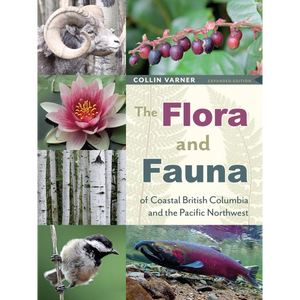 Flora and Fauna of Coastal BC
Age Range: Adult
Age Range: 15 - 17

A newly updated, expanded edition of the spectacular bestselling field guide to the plants and animals of the North America's Northwest Coast.
"A must have for any naturalist in the region."―Douglas Justice, Associate Director, Horticulture & Collections, UBC Botanical Garden
With its temperate climate and rich biodiversity, the coastal Pacific Northwest is an ideal environment for nature lovers of all sorts. Stretching from Juneau, Alaska, south to coastal British Columbia, Washington, Oregon, and all the way down to California's San Francisco Bay, this vast region is home to an incredibly rich variety of flora and fauna.
Packed with over 1,500 photographs and essential information about more than 900 commonly found plant and animal species across the region, this second edition of The Flora and Fauna of Coastal British Columbia and the Pacific Northwest is a colourful, concise, easy-to-follow resource guide. Accessible for anyone with an interest in nature―from amateur arborists to avid gardeners, from weekend hikers to experienced beachcombers―this book provides an essential overview of the region's trees, shrubs, bushes, flowering plants, berries, ferns, fungi, marine plants, marine and land mammals, birds, amphibians, reptiles, and insects.
With expanded flora and fauna sections; revised species organization; and new information about at-risk species, toxicity, edibility, and traditional uses, this book is an essential guide to the abundance of nature in this beautiful part of the world.
---