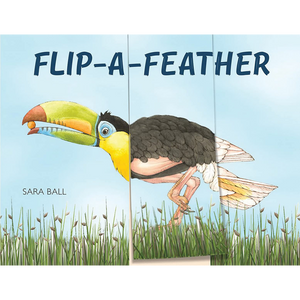 Flip-A-Feather
Age Range: 3 - 4
Age Range: 5 - 7

Flip and flop heads, tails, and bodies to make 1,000 remarkable birds!


From the best-selling illustrator of
Mix-a-Mutt
,
Flip-o-saurus
, and
Flip-o-storic
comes another book with charming artwork and die-cut pages for mix-and-match fun—this time with birds!
Flip-a-Feather
lets you create wacky combinations of ten types of birds, including a majestic bald eagle, an eye-popping resplendent quetzal, and an inquisitive macaroni penguin.

Each flap features a fun fact about the pictured species, and inside the front cover is a chart showing the relative sizes of the birds featured, from the hummingbird to the ostrich.

---