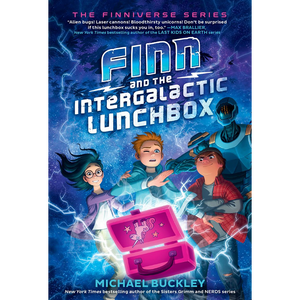 Finn and the Intergalactic Lunchbox
Age Range: 8 - 11

From the New York Times bestselling author of the Sisters Grimm and NERDS comes a new action-packed middle-grade series with aliens, robots, and kids saving the world!

Finn Foley has a lunchbox, and when he opens it, weird things come out…like a seven-foot-tall robot and a strange, blinking device that glues itself to his chest. The lunchbox also opens wormholes—shortcuts through space—that take Finn to the farthest corners of the galaxy. Sounds awesome, right?

Not so much. Rocketing through the cosmos attracts the attention of the Plague, a race of gigantic bugs. The thing on Finn's chest belongs to them—it's the most dangerous weapon in the universe—and they want it back.

To fight the Plague, Finn will need the lunchbox, as well as an unlikely squad: Lincoln, the bully; Julep, the coolest girl in school; Kate, Finn's unicorn-obsessed little sister; and Highbeam, a robot spy from another galaxy. If they can learn to work together, they just might have a chance, but the bugs are coming, and they'll stop at nothing to get their weapon—even if it means destroying the world.
---