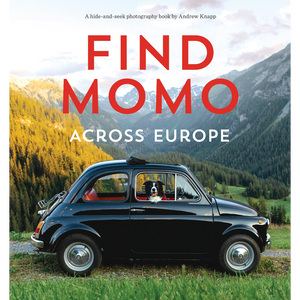 Find Momo across Europe: Another Hide-and-Seek Photography Book
Momo is a border collie who loves to hide. And you can play hide-and-seek with him as he travels across Europe with his best friend, Andrew. Join them on their stops in Portugal, Spain, France, Italy, the UK, and more in this book of beautiful landscape photography. No passport required!


Momo is a bandana-wearing, headtilting border collie who loves to tuck himself into beautiful photographs taken by his best buddy, Andrew Knapp. The duo's first books—
Find Momo
,
Find Momo Coast to Coast
, and the children's board book
Let's Find Momo!
—explored landmarks and little-known places across the United States and Canada. Now they've embarked on a European adventure, and you're invited to go along!

See if you can spot Momo concealed in picturesque neighborhoods, among ancient ruins, around castles and cathedrals, at legendary landmarks, and in off-the-beaten-path locations that only these seasoned travelers could find. It's the Grand Tour of Europe you've always wanted to take—with Momo's cute and happy face waiting for you at every destination.
---