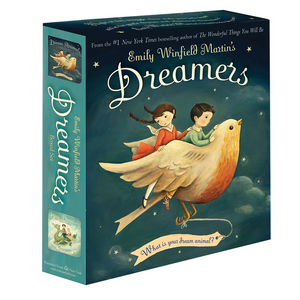 Emily Winfield Martin's Dreamers Board Boxed Set
Age Range: 1 - 2
Age Range: 3 - 4
Age Range: 5 - 7

Find your dreams in this beautiful boxed set of board books from the New York Times bestselling author of The Wonderful Things You Will Be.
 
Ideal for bedtime and daytime reading, the books in this irresistible Emily Winfield Martin boxed set—Dream Animals and Day Dreamers—celebrate the imaginations of children who dream.
 
Dream Animals convinces children to close their eyes and discover who their dream animal might be—and what dream it might take them to. Day Dreamers shows readers that letting their imaginations run free will lead them into fantastical day dreams.
 
With whimsical rhymes and gorgeous illustration, this boxed set is perfect for baby shower gifts and for discovering all kinds of dreams!
---