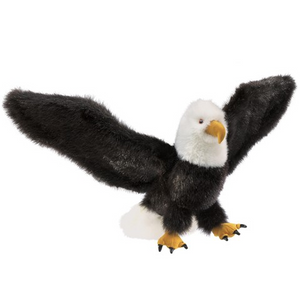 Eagle
Age Range: 3 - 4
Age Range: 5 - 7
Age Range: 8 - 11

This striking Eagle puppet features feather-like brown and white plush fabric and broad, flappable wings. His beak and talons are gold-colored velveteen.
Puppet measures approximately 14 inch long, 29 inch wide, 6 inch tall
DO NOT PUT IN WASHER OR DRYER. To spot clean use mild soap, warm water and a gentle cloth. Air dry only.
---